Working on the Front Line of a Pandemic: Our Healthcare Heroes Share Their Stories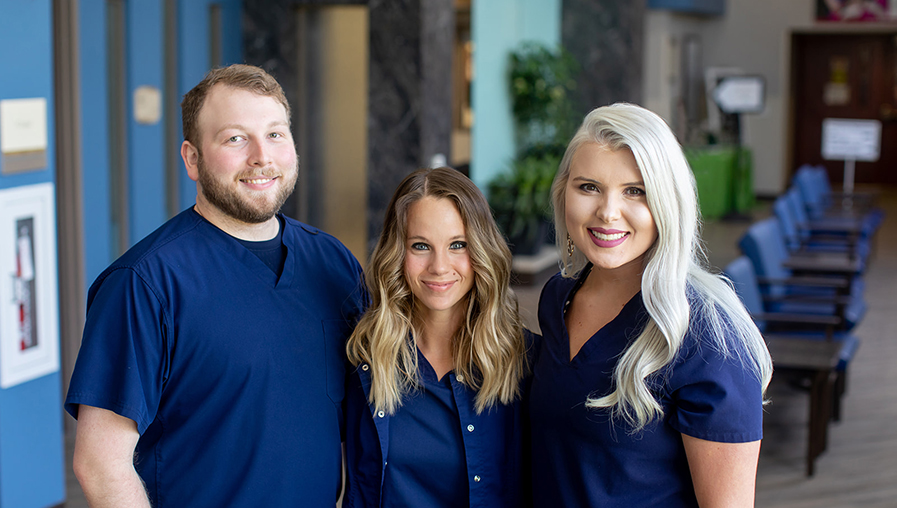 These recent months have shown the true resolve of our Howard Memorial Hospital family. The dedication and compassion our teammates have shown while navigating the COVID-19 pandemic is truly awe-inspiring.
Thank you to all who have spent their days—and nights—caring for patients during this unprecedented time. For those wondering what it's been like for some of our HMH healthcare heroes, here are some of their experiences. 
JESSICA DISOTELL, RN
Jessica spent her entire career at HMH after graduating in 2012. But when the novel coronavirus started spreading across the United States and made its way to Nashville, it felt a little bit like starting over.
"Even though it was a slow influx of patients, the virus itself was overwhelming for the community as well as the hospital," she shared. "It was a change, and people fear change."
Usually working together as a close-knit team, treating patients with COVID-19 is very different. Only one registered nurse at a time cares for these high-risk patients. 
"As their RN I am responsible for many tasks such as completing their assessments, monitoring vitals, medication administration, and more," Jessica said. "I work on the night shift and frequently on the COVID unit by myself. It is hard to be in multiple places at once if a patient calls out, and it teaches you time management and to be prepared."
Jessica said her struggle of working alone is amplified knowing her patients are enduring their own isolation from loved ones as they receive care. "One of the biggest struggles as a nurse is watching each patient go through this alone," she shared. "They are in the hospital for several days in isolation, scared of the unknown, and are not allowed to have any family or friends in the room for support or encouragement."
Thinking back on the patients Jessica's treated so far, one in particular stands out and continues to inspire her as she cares for COVID-19 patients. "At the beginning of the pandemic, I cared for a middle-aged patient. She was an alert, oriented, ambulatory lady," she shared. "Her vitals were stable. She had a low grade fever and a little cough and weakness but otherwise fully independent. A couple days after she was discharged with PRN Oxygen and home health to follow, she took a turn for the worse and had to be intubated. I found out she later passed away. This was a very eye opening and heart wrenching experience and what made me first realize, 'Okay, this is real. This is serious.'"
As the pandemic continues to unfold, Jessica continues to learn how to give the best care possible for COVID-19 patients and has become their champion. "Now that we have had multiple COVID patients, we understand their symptoms, their labs, and the way they present, I am becoming more comfortable with providing care to these patients. As their nurse, we are their sole caretaker and support system. It makes me proud to be involved and is very rewarding."
DYLAN LACEFIELD, RN
Dylan's five years of experience as an RN helped prepare him for the different, and often challenging, work of caring for COVID-19 patients. While the number of patients who tested positive grew slowly, a medical event like this requires compassion and thorough preparation to tackle head on.
"All staff were thoroughly educated regarding this new virus. We have also been kept up-to-date with education as research has taken place and things have changed," Dylan shared. "We closed off a section of PCU and designated it as the COVID unit to ensure the safest environment possible for patients and staff members. In addition to keeping a separate unit for COVID patients on the patient care unit, there is also a room available in the emergency department for COVID patients or those that are suspected."
Even with preparation and education, there was still a transition period for Dylan and others caring for COVID-19 patients.
"There were many changes to our usual work that we had to adapt to," he said. "The main one is having to wear a mask for the entire workday. It is also very different being separated from my coworkers whenever I am the nurse response for COVID patients."
Now a few months into the pandemic, Dylan has had time to reflect on his role as a nurse for these patients—a role which is both inspiring and challenging.
"Working with COVID patients has truly been an interesting learning experience. I have felt grateful for my health as well as being able to be involved in healthcare during such an evolving time," he explained. "But since the virus I have distanced myself from my family, especially my older relatives. I have had to utilize facetime and set aside extra time for phone calls to interact with family. When I come home I have to sanitize myself and do extra cleaning around the house to ensure there is no trace of the virus."
Dylan said that seeing patients recover makes the hard work—and sacrifices—more than worth it.
"When we get most patients, they are very ill. It's very rewarding to get to care for these people and watch as they get better and overcome the virus."
And even in the midst of a very difficult time, Dylan has a positive reminder. "I just want to tell the public that we can overcome this, and that as a group working together, we will heal from this if you use recommended guidelines and keep our faith, and spirits, up."
KELSI FRACHISEUR, RN
Kelsi joined Howard Memorial Hospital one-and-a-half years ago and has made a positive impact on patients ever since. But now more than ever, the dedication and compassion she shows when caring for patients with COVID-19, is truly inspiring.
"I can remember our first COVID-19 patient vividly," she shared, "We're a small hospital so when something big like this happens it unfolds right in front of your eyes."
Although, not as hard hit as some large cities, Kelsi is thankful for how the HMH team has worked together to prepare and keep patients, and staff, safe. "I feel like you could say we were over prepared, which is awesome," she said. "We set up a separate wing for COVID patients to help minimize spreading of the virus and added many additional policies and protocols for safety. It helped us navigate an otherwise overwhelming situation."
For Kelsi there were definitely struggles to overcome, especially when it came to caring for a COVID-19 patient without the usual help of others on the nursing staff. "It's more stressful because you're by yourself," she shared. "You're used to always being able to ask for help. You need to be constantly aware of what your patient needs and you need to ensure they get proper care while you minimize the risk of exposure."
To avoid the illness herself Kelsi said, "I call myself the 'super cautious nurse' now. I've never seen this level of sickness before and can't be too careful."
As time has gone on, Kelsi said she's adjusted to this new normal and finds herself becoming more comfortable, even amidst the uncertainty. "When I took care of my first COVID patient I was scared," she said, "But it's becoming more routine. I know who to call and what to watch for and am able to provide better care because of it."
Kelsi feels a strong connection with all of the patients she's cared for, something indicative of her dedication and commitment as a healthcare provider. 
"Each patient stands out to me," she shared. "I can vividly remember everyone's faces and names and their exact problems. I can remember if they were super sick, or if I was scared. You spend 12 hours a day with them; they all stick with you because their life is in your hands."
Posted in:
Health