Advances in Autism Treatment
New Therapies Available Close to Home
July 27, 2023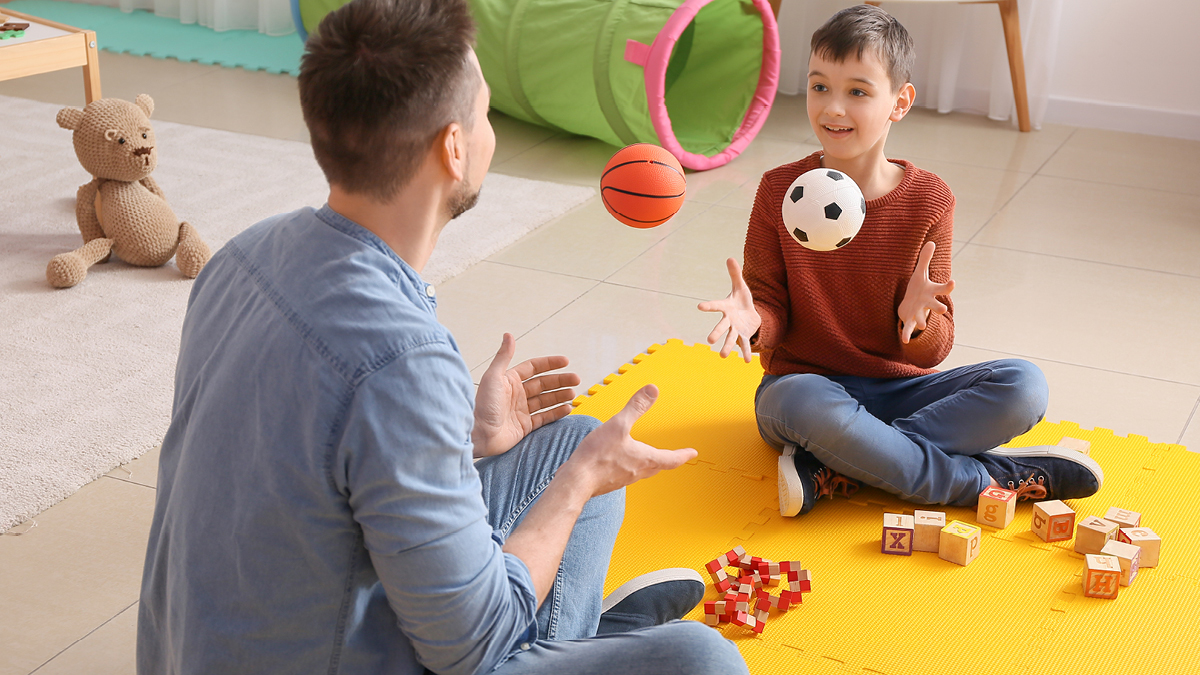 Everyone is impacted by autism, either directly or indirectly.
According to a CDC report in 2023, looking at data pulled in 2020, approximately 1 in 36 children in the U.S. is diagnosed with an autism spectrum disorder (ASD).
Ongoing research continues to reveal a better understanding of the symptoms and realities people with Autism Spectrum Disorder (ASD) experience. In fact, the notion of autism as a spectrum has begun giving way to a more individualized explanation, provided by the autism wheel.
"Many people still believe autism is a linear spectrum that ranges from high functioning to low functioning," explained Rachel Hockaday, Certified Occupational Therapy Assistant at Howard Memorial Hospital (HMH). "In reality, it's more of a pie, with different slices representing various symptoms that each come with their own challenges. For example, some people with autism may struggle a lot with sensory issues but have good social interaction skills, while others may be completely non-verbal with mild sensory deficits. Each person experiences a unique mixture of strengths and deficits."
Hockaday recently completed specialty training and education, beyond her occupational therapy assistant degree, to become a Certified Autism-Informed Professional (ASDI). Currently, she is the only ASDI practitioner in the State of Arkansas.
"I knew this certification would help me grow as a professional to better serve those who have autism," Hockaday shared. "I was a little shocked to see there are no ASDIs in Arkansas, and there are only three others who hold a higher degree as a Certified Autism Spectrum Disorder Clinical Specialist (ASDCS). While all occupational therapy professionals are regularly trained in updated treatments and techniques, I felt a need to support those with autism and their families even more, taking treatments to the next level."
Local Autism Support
Howard Memorial Hospital Pediatric Therapy Center works with clients from birth to age 18, treating a variety of childhood conditions and diagnoses. The therapists create a custom plan of care to meet each child's needs, along with providing updates with each session, suggestions for home activities and strategies, and adjusted goals, as needed, to facilitate success. In addition, the HMH Pediatric Therapy Center believes parent engagement ultimately helps each child reach his or her goals, while encouraging participation and collaboration.
Early intervention provides the best results, but therapy can lead to better results at any age or stage of development. The HMH Pediatric Therapy Center helps families find support, strategies, and techniques that facilitate success for every child with autism, regardless of the developmental stage or severity of symptoms.
"We work hard to teach strategies and techniques to help the patient and the caregiver grow in each stage of development," Hockaday said. "Our entire staff is committed to learning and expanding our skills to provide treatment options on par – or even better – than larger hospitals in bigger cities. Being in a rural area can make therapy a challenge because the patient and caregiver often have to travel long distances, repeatedly, for therapy sessions. The staff here works hard to stay up-to-date with the most advanced techniques by continuing education and specialty certifications, ensuring they know how to deliver the best-possible treatments and services, close to home."
It's also important to note that a child does not require an autism diagnosis, just to receive treatment for symptoms. While the Pediatric Therapy Center cannot evaluate for the purpose of diagnosing autism, providers can address areas of deficit. Ultimately though, a diagnosis is most helpful for receiving adaptive measures with schooling and tapping into useful resources within the community.
A child might benefit from physical therapy or occupational therapy for a variety of reasons, including:
Recovery from injury, illness, or surgery
Developmental disabilities
Sensory deficits
Delays in achieving milestones regarding language development
Sitting, crawling, walking, or coordination
Any other diagnosis contributing to delayed development
"By receiving care at a facility that focuses on pediatric patients, a child not only gets effective treatment, but also receives care that matches the applicable age range and developmental milestone that should be reached," explained Hockaday. "We understand their minds, bodies, and personalities are still growing and changing. The best plan for success involves supporting the patient in whatever way he or she needs help, and then adjusting that plan, as the patient ages and matures. We understand how essential it is to include the family, as well as any other caregivers."
Most often, therapy involves teaching the patient about:
Self-regulation skills
Functional tasks or accommodations
How to communicate (verbally or non-verbally)
Each of these categories gets adjusted over time to match different stages and age-appropriate goals.
The Future Looks Bright
The Pediatric Therapy Center continues to expand services and find news ways to serve the community:
Physical therapist Brittanee Hankins is progressing through the next level of certification in TMR-TOTs to address range of motion issues and limitations in children. TMR-TOTs utilizes Total Motion Release techniques to treat restrictions in motor development. This treatment can be particularly effective for children with torticollis, hypotonia, and other neurological challenges.
Plans for an autism support group are taking shape. "Caregiver burnout is real. The stress of having autism is real. I would really like to start a support group for persons with autism, as well as their caregivers," Hockaday shared. "There is something about talking to another person, without judgment, who understands where you're coming from. It's important to feel heard, to be seen, and to feel like you belong."
If you think that you or a loved one may have autism, reach out to your primary care physician with these concerns. That provider will refer you to a facility, physician, or psychologist who can perform the necessary evaluation for a diagnosis of autism.
If you have questions about the Howard Memorial Hospital Pediatric Therapy Center, or would like more information about available services, call 870-845-8035.
Posted in:
Health
,
Kids