SUMMERTIME, AND THE COOKING (SHOULD BE) IS EASY!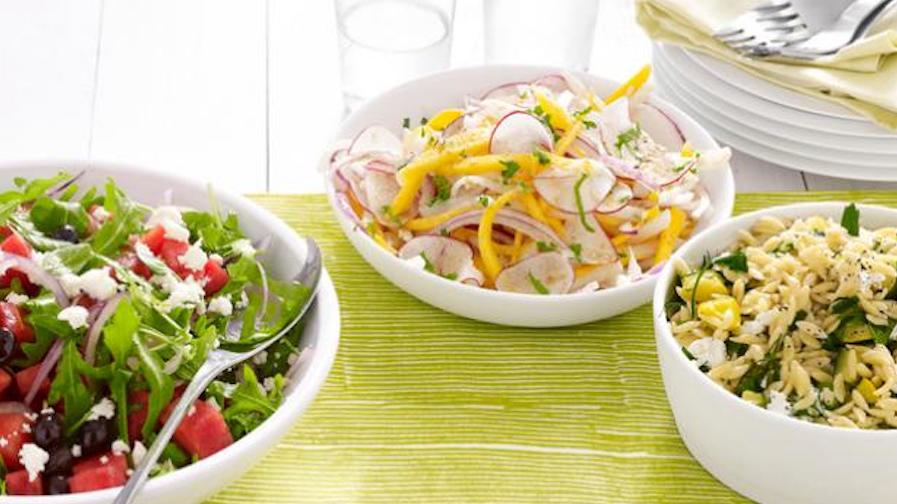 It's that time, when the weather is hot and the air gets heavier—so heat up the house by cooking? Summer is a fantastic time for meal-making, with a growing (pun intended) variety of fresh fruits, vegetables and herbs, that evolve as the summer progresses. 
STEP UP YOUR SALAD GAME
A healthy, go-to in summer, salads are light and refreshing—but it's easy to get into a bit of a rut. Fortunately, you don't need much to gussie up those greens.
Toss in fresh herbs. You really can't go wrong, if you like it, add it! Add basil, cilantro or mint for a bit of brightness. Choose chives, dabble with dill or try a bit of tarragon or thyme. Each adds their own unique flavor so play around and find some new summer favorites.
In-season veggies and fruits. Grilled beets, shredded fennel, or grilled peaches make wonderful additions that add unique flavors. Roast some peppers or add some grilled asparagus. Snap peas, beans and cucumbers add freshness, crunch and pack in plenty nutrients. Shop the farmers' markets and find new flavors to add and play around with.
Protein pleasers. Protein packs power to your salads so you'll feel full longer. Add a crumble of bleu, gorgonzola, or feta cheese —a few pecans or slice up an avocado—and you've got delicious textures and flavors that make your salad more fork-worthy. Adding other favorites like grilled shrimp, hard-boiled eggs, salmon and chicken will also make a simplest salad more substantial.
Make your own dressings! For a lighter, heathier salad dressing, there's nothing better than making your own. Plus, it's so affordable and simple; you'll wonder why you ever used other dressings. Start with the basics and add your own flair as shown here: https://www.foodnetwork.com/recipes/articles/how-to-make-salad-dressing.
Salad recipes to try. If it's too hot and you'd rather not think, these salad recipes are already taste tested. Of course, you can customize existing recipes as well! https://www.foodnetwork.com/recipes/articles/50-simple-salads 
TRY SOME COLD SOUPS!
Cold soups combine great summer produce with creative, refreshing flavors. It may sound unusual, but chilled summer soups are refreshing, healthy—and would go nicely with salads or at your next cookout. Once you them, you may just find they're your new summer go-to. For ideas, visit https://www.thespruceeats.com/best-cold-summer-soups-3376622 
YOU GO, GRILL.
Grilling is a great way to prepare healthy fruits, vegetables, and proteins that take you out of the kitchen and enjoying those precious summer evenings. Grilling is as easy or as complex as you want to make it, but either way, you can try a lot more hamburgers and hot dogs. 
Try grilled fruit. Add a few peaches, pineapple or melon to the grill for your next cookout. The grilling process caramelizes the outside a little giving them a fantastic flavor. Eat them with ice cream or make a great grilled salsa.
Grilled vegetables. We can all picture the usual grilled veggies, but try some fun new ones, like BBQ cabbage, grilled beets, asparagus, and even different squashes. The possibilities are limitless, and it's a perfect time of year to get your grill going and experiment. 
Grill more, fear less. If you're a beginner, don't be intimidated. Gas grills are quite simple, just follow all safety precautions associated with your grill. These tips and tricks may help: https://www.thespruceeats.com/gas-grilling-tips-334991. And, once you get your grill groove on, here are simple recipes to try that will have you heading out(doors) for dinner, all summer long: http://www.eatingwell.com/recipes/18260/cooking-methods-styles/bbq-grilling/
Whatever you decide, enjoy this wonderful time of year and don't be afraid to try something new. Eat well, stay cool and have a delicious—and healthy—summer! Happy cooking!
Posted in:
Recipes