Meet Dr. Candice Miller: The Heart & Soul of HMH Rehab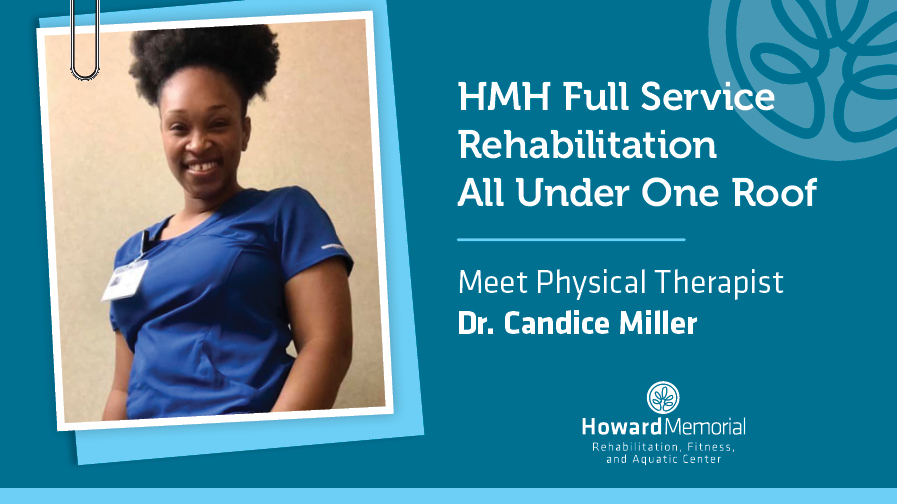 Physical Therapist Dr. Candice Miller's passion for her patients and their success is remarkable—you can feel how much she loves helping people as soon as she walks into the room. And we couldn't be happier to have her as part of the team at the Howard Memorial Hospital Rehabilitation, Fitness & Aquatic Center, a non-profit facility that helps support Howard Memorial Hospital.
Originally from Nashville, Dr. Miller received her doctoral degree in physical therapy from the University of Central Arkansas and had her first clinical physical therapy experience right here at HMH. After working with our awesome rehab team, she says that joining us as a full-time physical therapist "was a blessing from God himself" and we couldn't agree more!
Physical therapy is something she feels called to do, which allows her to give each patient she works with the very best care.
"I became a physical therapist with the sole purpose of meeting people at the bottom of an unexpected mountain and doing all that God allows me to do in guiding them through their journey back to the top."
She's excited to work in the community that raised her and to make a difference in the health of those in Nashville.
Why HMH for rehab?
Dr. Miller's incredible passion and knowledge make her a shining example of why the rehab services at HMH are second to none in the community. Our rehab center provides services for all ages and health situations, so that you can live a healthier, happier life.
Howard Memorial Rehabilitation, Fitness & Aquatic Center offers:
Physical Therapy (from acute hospital care to outpatient therapy)
Occupational Therapy
Speech and Language Pathology
Aquatic Therapy
Fitness Services (all disciplines)
Specialty Care (dry needling and kinesiotaping)
Dedicated pediatric rehabilitation facility, opening in early 2021!
Our team includes several doctoral level physical therapists, including Dr. Miller, with various specialties to ensure every patient receives the care they need for rehabilitation success. Plus, we fully believe in the importance of one-on-one care, so during your appointment the focus is only on you—just the way it should be.
Plus, our wide variety of rehab services means that we can provide complete continuity of care all in one place for patients young and old.  Whether you're in the early stages of recovery after a major medical event like a stroke or are nearing the end of your rehab journey, our team can care for you.
The "complete package" of services we offer at HMH, is one of the many reasons Dr. Miller loves working at the center, saying, "It allows us to serve the full spectrum of the population confidently—we can find a great match for all patients."
Patients can enjoy the exceptional physical therapy services Dr. Miller provides and at the same time receive care from one of our occupational therapists or our speech and language pathologist to ensure the most comprehensive rehab plan possible.
It truly is all the rehabilitation and fitness services you could need, right under one roof.
Get well. Stay Safe.
On top of the excellent care our team provides, patients can also rest easy knowing that the rehab center is one of the safest places they can be.
We have implemented several COVID-19 safety measures, including universal masking, to ensure that people utilizing our rehab services don't need to worry about getting sick while trying to get well.  We're proud of the way our team has adapted to all changes and while still managing to provide the highest level of care.
To learn more about Dr. Miller and our rehab services visit https://www.howardmemorial.com/rehabilitation or call 870-845-8161 to make an appointment.
Posted in:
Fitness/Rehab
,
Health