New Year, New You—Recommit to Health in 2021!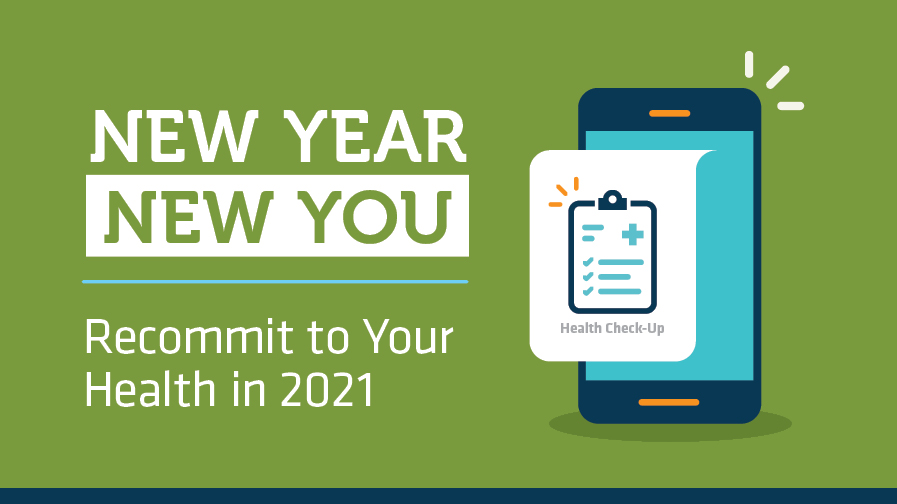 Make 2021 a healthy YOU year—and make your health and wellness a priority for this next trip around the sun. Schedule the annual healthcare appointments you need that give you a full picture of your health. If you're behind on wellness visits, screenings or treatments for chronic conditions, get back in the groove—and on schedule—with these important regular healthcare visits.
AN OUNCE OF PREVENTION IS WORTH A POUND OF CURE—BE PROACTIVE ABOUT YOUR HEALTH; GET THE SCREENINGS YOU NEED
Delaying important care can make conditions worsen. Annual appointments are your chance to have important screenings to detect problems before they get worse. Routine and recommended screenings make sure you're at your healthiest even if you don't yet have recognizable symptoms. Things like colonoscopies, mammograms, and of course, a visit with your primary care provider yearly, are an important step in the prevention, detection, and cure of some very serious diseases. 
SERIOUS ILLNESSES WON'T WAIT—EVEN DURING A PANDEMIC
If you've been avoiding important wellness visits, screenings or care for chronic conditions because of COVID-19, it's more important than ever to get the care you need. Serious illnesses like cancer, diabetes and heart disease simply won't wait. Getting the important screenings that you need is important sooner, rather than later.
JUDGEMENT-FREE ZONE
If you have put off visits, don't be embarrassed; 2020 was a difficult year for everyone. We are here for your health, not to judge you. It's a new year, so come in with confidence and let us help you start it off right.  As always, we're here to help you and your family. No matter what you need, from primary care to specialty services, find compassionate care from experts who are here to support and help you find your way to health, happiness and a better quality of life.
IF 2020 WAS ABOUT AVOIDING SICKNESS, MAKE 2021 ABOUT RECOMMITTING TO YOUR HEALTH
It's a new year that is filled with much hope. And as 2021 has just begun, it's the perfect time to make your health the priority it should be. So, raise a glass—or something healthy of course—to a new year of happiness, hope and health. A visit with your primary care provider is the best place to start. From that appointment, he or she can provide you with the screenings you need and, if necessary, refer you to other providers who can help you along on your journey.
Take the first step to a healthier you in 2021! Schedule an appointment with your primary provider. Don't have one? Call our team to of dedicated providers and find one who can help understand your needs, help you with your goals—and make sure you're starting the new year out strong. Call 870-845-6060 for an appointment or learn more at https://www.howardmemorial.com/our-providers.
Posted in:
Fitness/Rehab
,
Health