Happy National Hospital Week!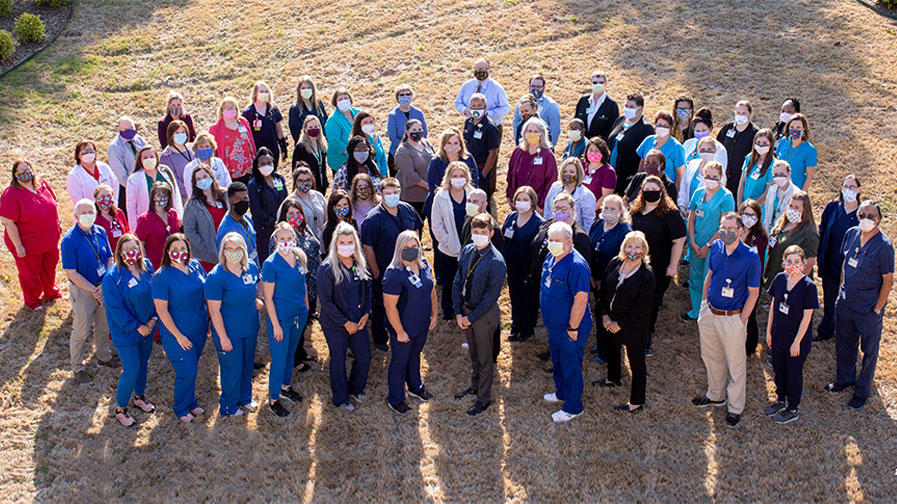 Thank you to EVERYONE at HMH—you are all healthcare heroes!

Every year, hospitals across the nation celebrate National Hospital Week, a week to recognize the important roles hospitals play in our communities and, most importantly, to celebrate EVERY person essential to making our healthcare facilities successful. Never has there been a year more fitting year to thank the many men and women who make sure Howard Memorial Hospital—and hospitals everywhere—their very best all year round. 
For those who make patient care their passion. 

From the many frontline workers, physicians, providers, nurses, aides, emergency staff, therapists, pharmacy workers, lab staff and many others who provide compassionate care our patients, we thank you. You are the faces to our patients and so much of what we do, and how we are represented as a hospital, falls on your shoulders. The work you do is no easy feat, but you pull it off with professionalism, compassion and commitment to your both patients and your HMH family. 
If it's not clean, it's not safe.

Thank you to our maintenance staff, custodial workers, cleaning crew, dedicated buildings and grounds professionals and our crucial laundry and housekeeping professionals. Without you we could do nothing. Your contributions are vital always, but perhaps it's never been as evident as this year during the COVID-19 pandemic. Your unrelenting commitment to ensure that HMH continues to meet the highest sanitation standards is a literal lifesaver as you help ensure the safety of our patients and our staff. Our hospital is a better place with you in it and we thank you most sincerely. 
Essentially selfless: our volunteers

HMH volunteers use their own time—and their special gifts of compassion and kindness—to improve the patient experience every day. From helping guests navigate the halls, to visiting for pastoral care or simply providing a smile and an open ear when someone needs to chat, volunteers give of themselves to provide peace of mind to patients and their families. We thank you for sharing your time and talents with our patients, and with us. 
Behind the scenes but front and center of importance.

To all who never come into the spotlight for a bow but are so important to the success of everything we do at HMH, we see you. Thank you to our administrative staff for your attentive detail to ensuring the business side of our hospital runs smoothly and our staff and providers have the resources they need to do their jobs. Thank you to those who run our HMH Foundation who help ensure that we can continue to grow in health to best serve the needs of our community. To our board of directors and executive team, this is your week too. Thank you for making HMH a respected leader in improving the health of the communities we serve. 
A warm reception to the directors of first impressions. 

Thank you to all working in reception and scheduling—you are often our patients' first point of contact. You set the tone by providing kindness when someone needs extra care when checking in. While scheduling appointments, yours is the voice on the other end of the line that can be reassuring if they're feeling apprehensive or uncertain. Thank you for your grace, kindness and sensitivity, and for helping those who trust us for care receive the service they deserve. 
For our food service professionals, adding flavor to our day.

Thank you to all who work in food service—whether it's behind the scenes preparing and cooking meals, washing dishes or for those who work in customer service, your efforts are significant and make a difference every day for our patients, staff and visitors. Thank you for the important work you do to sustain us, bring people together and provide a place to regroup and recharge.
For everyone we've listed, and those we may have missed, we wish a heartfelt Hospital Week to you all. Your contributions and hard work are why people in our communities can receive care when they need it most. 
To hospital workers everywhere, you are ALL our healthcare heroes. And while you may not all think of yourselves as such, please remember: there are about seven billion people across the country who do. And we thank you all. 
 
Posted in:
Health