It's National Nurses Day, Week and Year!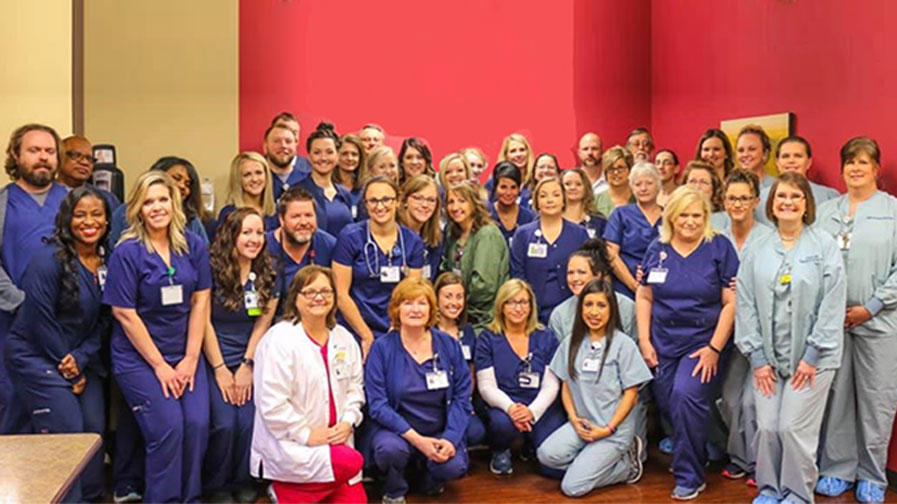 Celebrate nurses—the heart of healthcare
Long before the year began, 2020 was designated the Year of the Nurse. Little did anyone know then what these dedicated caregivers would face in the year ahead. And while most nurses certainly did not choose their profession for fame or recognition, this year, the much-deserved spotlight shines brightly on them, nonetheless. Nurses are highlighted, applauded and celebrated for the superstars we have always known them to be.  
Thank you to the approximately 3 million nurses nationwide—and to our dedicated Howard Memorial Hospital nurses—for your tireless commitment to your patients and your calling. Every day, nurses make patient care a priority, even at the risk of their own health. And when faced with the unprecedented demands of COVID-19, the nation now sees, first-hand, the heroic ways in which nurses deal with adversity and tirelessly help, heal and provide care—even when all that is left to do is to hold a hand or provide words of reassurance. Your commitment—and your heart—has never been lost on us.
As we celebrate nurses this week and year, here are a few reasons how nurses play vital roles in our healthcare:
Nurses remain the nation's most trusted professionals
For 17 years and counting, nurses have been ranked by Gallup as America's most trusted professionals. The annual poll of Americans found that 84% of those who responded rated the ethical standards and honesty of nurses as high or very high. Think about all of the information we trust our nurses with. We have told them things we may not share with a close friend. They have seen us at our most vulnerable and reassured us, helped us when we have felt our worst, and comforted us. They even know our real weight—and keep it to themselves. If that is not trust, what is? 
Nurses are the glue that connects patients to providers
Nurses are the patient's first point-of-contact and the last person a patient sees when being discharged from the hospital or leaving an appointment. They take time to understand a more detailed picture of each patient's concerns and are often a liaison between people and their physicians. Nurses are true healthcare partners—both with the physicians who diagnose, prescribe medicine, and perform procedures—and with the patient. They pay attention to his or her total health by answering questions, connecting patients with support resources or providing reassurance in times when a diagnosis is particularly overwhelming.
Nurses provide support for the entire family
As we have seen recently with COVID-19, often family members are unable to be with their loved ones since safety precautions are in place. When patients have been unable to connect with their families, nurses' step in to fill the void in any way they can. Whether it is providing communication—via a mobile device or tablet—so patients can talk with loved ones or being there to hold a patient's hand in their final hours, nurses rise to whatever level of care is needed. In other cases, nurses help family members who are in the hospital with their loved ones, to answer questions and provide the same level of support to families, as they do to patients.
As we continue to celebrate both National Nurses Week and the Year of the Nurse, we thank nurses everywhere for the many ways you make a difference in our health and our lives. 2020 is referred to in eyecare as perfect vision, so perhaps it is especially fitting that it is the same year where nurses are seen more clearly than ever before: as healers, advocates, caregivers, support providers and so much more. Thank you all for your unwavering devotion, service and willingness to help.
Posted in:
Health