Top 10 Reasons to Choose Howard Memorial Hospital Rehab & Fitness Aquatic Center
All under one roof - full service, all ages & all needs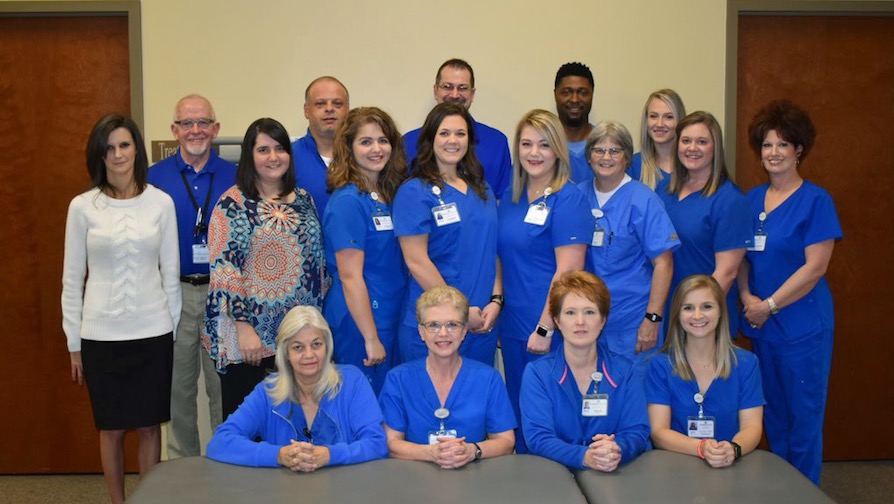 Trust the accredited professionals at Howard Memorial Hospital for the most comprehensive, customized, and complete rehabilitation plans and services.
Here are ten reasons to choose Howard for your entire family's rehabilitation care needs:
You support your local hospital: Community support is vital to the success of local, nonprofit, community hospitals. When you select Howard Memorial Hospital Rehab Services, that revenue is re-invested back into our community hospital rather than to a corporate owner. This also allows us to provide charitable care to those in our community who may not otherwise be able to afford care. 
 
We provide employment for one of the largest rehab groups in Southwest Arkansas: We proudly employ highly trained professionals to meet a large range of rehabilitation needs. Our full-time licensed therapists include five physical therapists, six physical therapist assistants, an occupational therapist, two occupational therapist assistants, and a trained speech language pathologist. Specialized rehab care includes:
 

dry needling
cupping
kinesiotaping
treatment for balance/vestibular dysfunction
pelvic health
treatment for low back pain
treatment for neck pain
hand therapy
aquatic therapy
speech therapy
swallow therapy   ​
 

Continuity of care for your entire physical rehabilitation journey: No matter where you begin your rehab journey, our highly skilled therapists are with you to help you meet your goals. We provide both acute care and "swing" bed rehabilitation and, as your strength and function improve, our staff will follow up with your progress through home health care or in our 4,300-sq. ft. outpatient rehab, fitness and aquatic center. We are also very involved in pediatric therapies. To continue your fitness journey after rehab, join our gym or aquatic center and use either facility as a member.
 
Full-service rehabilitation facility with licensed physical therapy, occupational therapy, and speech language pathology staff: This means if you, a friend, or a family member suffers a stroke, all of your rehabilitation services are at one stop: Howard Memorial Rehab, Fitness, and Aquatic Center. Our pediatric clientele can also coordinate all three therapy disciplines in one visit as well. It also means that specialized care, under the direction of an occupational therapist, is always available for your shoulders, arms or hands.
 
Complete care from newborn to geriatric: Our highly skilled therapists are trained to provide care to all ages. Our therapists also pursue continuing education to enhance their skills and learn up-to-date advancements to best care for the entire family, from infant and pediatric clients, to adolescents, adults and senior citizens. 
 
Care is only provided by licensed therapists: Unlike some clinics that utilize massage therapists, athletic trainers, or unlicensed aids or technicians, our physical therapists, physical therapy assistants, occupational therapists, occupational therapy assistants and speech-language therapist are fully accredited to provide the latest in quality care.
 
One on one care: When you rehab with Howard Memorial Hospital, you can trust that our time is yours. We never schedule multiple patients with one therapist at the same time because we know it is critical that you receive the undivided attention of your therapist during each and every session.
 
Benefit from both land-based and aquatic-based (pool) therapy: In addition to the advanced techniques you'll learn in our rehab center, many patients also benefit from pool-based therapy sessions using our  SwimEx resistance pool. The aquatic environment is a perfect alternative for patients with a lot of pain. It's also a great resource for those who want to alleviate pain and start a weight loss journey. 
 
Specialized pelvic health and women's health services: We are one the few clinics in southwest Arkansas able to offer this specialized service. Dorothy Clark, PT, DPT, has received advanced training to help with women's pelvic pain with pre- and post-pregnancy consultations to offer assistance regarding back/sacral pain, abdominal muscle issues, incontinence, and pain. She also helps men and women suffering from urinary or bowel incontinence issues.   
 
We accept all insurance plans: Whether you have Medicare, Medicaid replacement policies, Medicaid, or private insurances, you can use it for your rehab journey at Howard Memorial Hospital. We also offer discounts for cash-paying patients as well as prompt payment discounts.
When looking for the best resource for a comprehensive rehab facility, with trained, accredited professionals to treat the entire family, Howard Memorial Hospital Rehabilitation Therapies offer the services you need and the quality care you deserve. Call 870-845-8161 for more information or to make an appointment.
Posted in:
Fitness/Rehab
,
Health