Easy Crockpot Tortilla Soup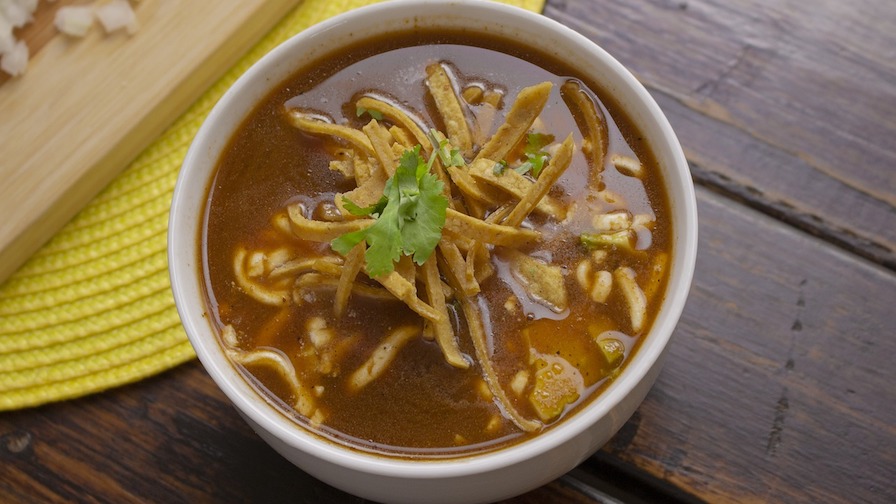 There's nothing better than a bowl of hot soup to warm up a cold winter's day. Here's a healthy recipe that's packed with protein – and flavor!
Ingredients
1 lb. boneless, skinless, chicken breasts, shredded
1 can (28 oz) diced tomatoes
1 can (4 oz) chopped green chilies, drained
1 cup frozen corn, thawed or 1 cup quinoa, cooked
1 can (15 oz) black beans, drained and rinsed
1 white onion, diced
1 bell pepper, diced
1 jalapeño pepper, diced and deseeded (keep seeds for more heat)
2 cloves garlic, minced
3 cups low-sodium chicken broth
1½ tsp ground cumin
1½ tsp chili powder
¼ tsp salt
¼ tsp black pepper
Instructions
Place chicken breasts in a saucepan with 1 tablespoon olive oil. Cook over medium-high heat for 5 minutes. Flip chicken breasts, and add enough water to cover them. Simmer for another 7-10 minutes, until chicken is fully cooked.
Remove chicken from pan and place on plate or cutting board. Once cooled, use two forks to shred the chicken breasts.
Place shredded chicken and all other ingredients together in crockpot. Cook on high for 3-4 hours or low for 7-8 hours, stirring occasionally.
If desired, top soup with a pinch of Mexican cheese and a few slices of fresh avocado.
Posted in:
Recipes