Swing Bed: Because There's No Place Like 'Close to Home'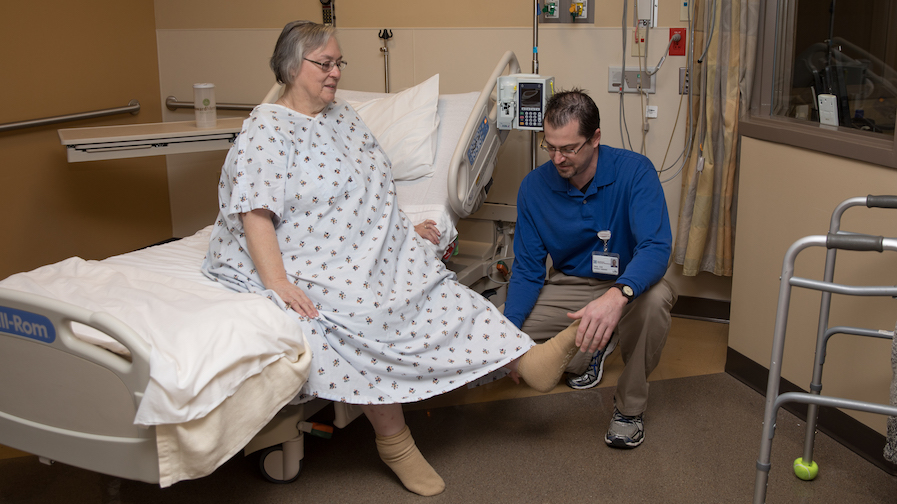 Whether you grew up in the area or recently moved here, you know there are many advantages of living in a small community. But there's one benefit you may not be aware of when it comes to healthcare. Howard Memorial Hospital (HMH) offers a unique swing bed program that can help bridge the gap between hospital and home.
Unlike larger hospitals, HMH can "swing" qualifying patients from acute care to a lower level of medical or nursing assistance. For example, patients recovering from surgery, or a major illness or injury may need extra time to heal. Instead of being transferred to a nursing home or rehab center, these patients can receive swing bed services right at HMH.
HMH Swing Bed Program includes:
Daily physical therapy
IV hydration
Complex wound care
IV antibiotics
Daily respiratory therapy
Unstable nutrition support requiring NG support or enteral feeding
Who qualifies for swing bed services?
In general, patients qualify for the program if they meet two requirements. They have:
Received three consecutive days of acute inpatient care.
Require additional nursing care and/or rehabilitation services, like IV therapy or physical therapy after a surgery or accident.
How long can someone be in the program?
Patients can remain in the program as long as they have therapy and rehabilitation goals to meet:
Once goals are reached, patients are often able to return home.
If patients need to explore other options, the HMH care team can provide alternatives for future care and help guide patients and their families through the transition process.
Are services covered by insurance?
In most cases, swing bed is covered by Medicare. Many private insurance plans also cover swing bed services, so it's important to check with your carrier.
What do patients say about the program?
Many patients have shared that they:
Receive more personalized care at HMH.
Are relieved to be close to home so family and friends can visit and support them.
Feel less disruption in care by staying at HMH vs. transferring to another facility.
Have a closer relationship with local providers who check on them more often.
Are relieved to have more time to arrange for future care, if needed.
How can I find out more?
If you have questions, we're here to help. Please contact Case Management at 870-845-6934.
Posted in:
Fitness/Rehab
,
Health