Celebrate Occupational Therapists!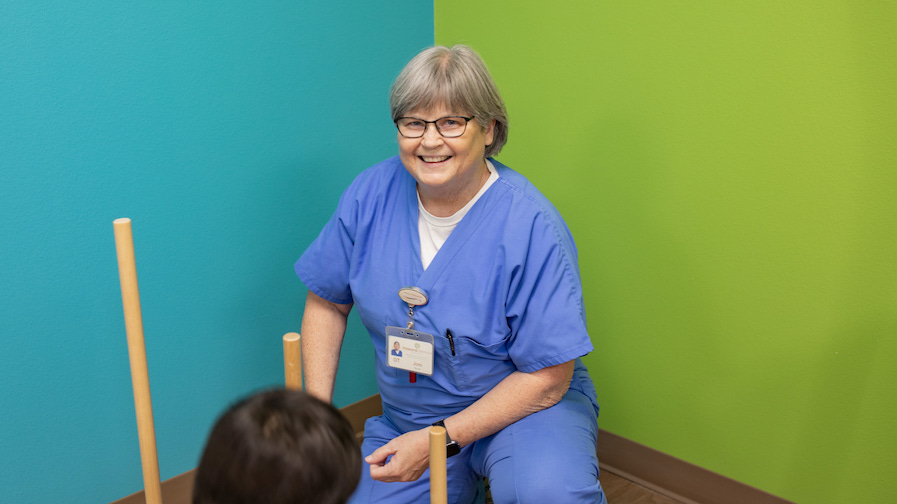 April is Occupational Therapy Month—and the perfect time to learn about an often misunderstood rehabilitative therapy—and the professionals who provide this important care. Occupational therapists help people learn, or relearn, the daily skills needed to live more independent lives. Even better, occupational therapists help patients regain independence, productivity and self-esteem.
Occupational therapy impacts many
There's no shortage of ways in which occupational therapy impacts people. Occupational therapists help people living with long-term health conditions, and those who are recovering from an injury or illness, like an accident or stroke. Therapists also work with aging adults who have physical or cognitive changes to help them maintain their independence. Therapists teach a variety of skills, which range from helping people relearn personal hygiene, cooking, or showing how they can adapt to enjoy a favorite hobby. Children and adults with special needs rely on occupational therapy to learn skills to succeed in school, at work or in social situations.
Customized, one-on-one care
Occupational therapists take time to understand each patient's personality, needs and skill level. Therapists work closely with other providers and physicians to understand restrictions and align health objectives. Therapists also seek input from families and caregivers. Most importantly, occupational therapists create a relationship with each patient to customize care and help patients succeed.   
During a typical therapy plan, occupational therapists:
Access patients' healthcare needs, skill level and work with them to establish health—and life—objectives.
Create a customized plan to help patients reach goals using therapeutic exercise, manual therapy, cognitive training or adaption/modification.
Evaluate—and re-evaluate—therapies to ensure goals are met. Therapists also change care plans when needed to help ensure patients are successful.
Howard Memorial Hospital occupational therapists—In their own words
Occupational therapists choose their profession for a variety of reasons. Many enjoy the close bonds they form with patients. Others enjoy the dynamic field because they like working with patients of all ages. But perhaps most of all, therapists feel called to the profession because of a strong desire to help others.
"I chose occupational therapy because it gives me an opportunity to help people regain independence in their everyday life," said Marley Gilbert, Howard Memorial Hospital occupational therapist. "I love that OT treats the person as a whole and utilizes work, self-care and play to aid in their success. It has given me the opportunity to work with a variety of ages, from birth to geriatric. I love building relationships with my pediatric and adult patients; knowing that I played a part in their success makes my heart so happy!"
HMH occupational therapist Joni McGhee echoes the sentiment. "For me, occupational therapy encompasses the whole of an individual's daily life. We are able to impact so many areas that hinder a person's ability to be independent," she said. "I started my OT career later than most, in my early thirties, because I knew there was something inside me that wanted to help others obtain and maintain the best version of themselves."
Hooray for occupational therapists this month and every month!
As we celebrate Occupational Therapy Month, we celebrate these important providers who impact so many. Thank you to all occupational therapists for your dedication and compassionate care to help patients—and entire families. Howard Memorial Hospital appreciates you!
To learn more about occupational therapy, and all of the rehabilitation services at Howard Memorial Hospital, visit: https://www.howardmemorial.com/rehabilitation
Posted in:
Fitness/Rehab
,
Health