May Is National Skin Cancer Awarneess Month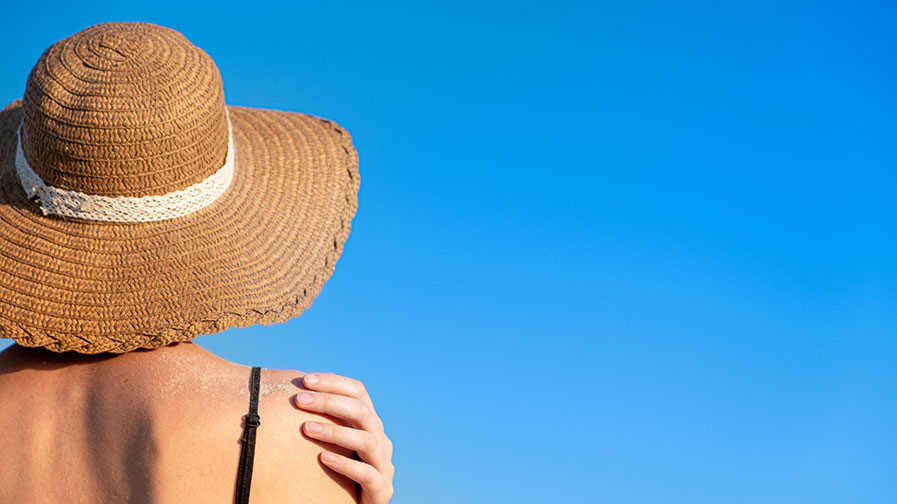 Protecting your skin is always in—practice safe sun all year long
It doesn't matter your age, race or gender, when it comes to skin cancer, everybody is at risk. Approximately 9,500 people are diagnosed, every day, with some form of the disease. Sadly, nearly 20 Americans die daily from melanoma, the most deadly form of skin cancer. 
However, there is a bright side. Even though skin cancer it is the most common cancer in America, it's also the most avoidable. By practicing safe sun, you can protect yourself and your family. Simply use these sun-safe strategies before heading out for fun in the sun:   
Apply a broad-spectrum, water-resistant sunscreen with a Sun Protection Factor (SPF) of 30 or higher.
The sun's harmful rays can damage your skin in as little as 15 minutes. Use sunscreen daily with an SPF of at least 30 and choose water resistant for best coverage. Reapply every two hours, particularly if you're very active or in water. 
 
Stay in the shade during peak hours.
Seek shade whenever possible, and especially when the sun's rays are the strongest between 10:00 a.m. and 4:00 p.m. During these hours, harmful UV exposure is the greatest.
Wear sunscreen even on cloudy days.
Dangerous UV rays can still penetrate cloud covers — and as much as 80% of the sun's UV rays can reach your skin. So don't be fooled if the sun is hiding behind the clouds—those rays will still find you. 
Wear protective clothing.
When you can, wear long sleeves. Hats and sunglasses are summer staples that can be fashionable and functional. Find a wide-brimmed hat that covers your ears and shades your face and neck—a tightly-woven fabric is best to provide greater coverage. Choose sunglasses that block 100% of UV rays. For the greatest level of protection, find a wrap-around style. 
Protect the kids!
It's important for everyone to be safe when it comes to fun in the sun so make sure the kids are protected as well. Even one blistering sunburn during childhood or adolescence can double a person's chance of developing melanoma, the deadliest form or skin cancer, later in life.  
Outdoor fun is healthy and very important, especially as we start the summer season. So go out and seize the day—just think about your skin before you seize too much sun. Practicing safe sun can prevent you from becoming a statistic. 
Learn more about our specialty clinic dermatology and oncology services at Howard Memorial Hospital. 
 
Posted in:
Health