Healthy Recipe: Sunny Summer Salad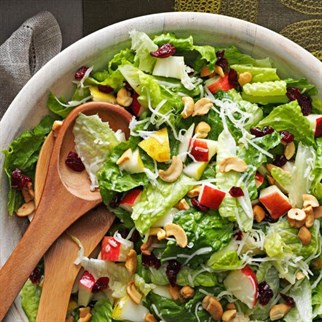 This salad is filling enough on its own when it's too hot to cook. It also makes a great accompaniment to grill night and is a showstopper at family picnics.
Ingredients:
1/2 cup olive oil
1 tablespoons red wine vinegar
1 tablespoon balsamic vinegar
1 clove garlic, minced
1 tablespoon light mayonnaise
2 heads Bibb lettuce - rinsed, dried and torn
1/3 cup sunflower seeds
2 avocados - peeled, pitted and sliced
Salt and pepper to taste
Directions:
Whisk together the olive oil, red wine vinegar, balsamic vinegar, garlic and mayonnaise. Season with salt and pepper to taste.
Posted in:
Recipes