Think With Your Heart When Selecting a Snack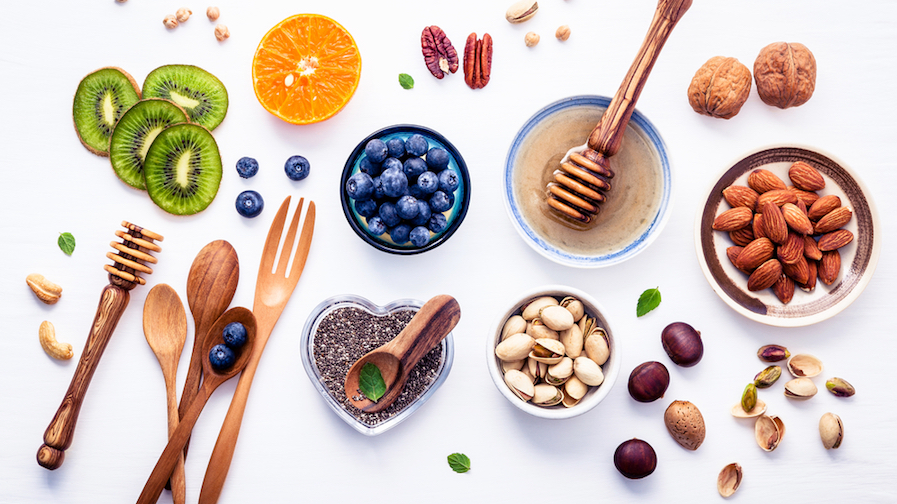 We celebrate everything from birthdays to the big game with food, so why should American Heart Month be any different? Nosh your way through February while doing right by your heart; all it takes a little planning ahead. By making slight modifications, or experimenting with different snack options, you can incorporate foods that are just as delicious but pack more heart-healthy nutrition. Even better, the right snacks will help you feel satisfied longer and are better sources of energy, which can give you that extra oomph to get in a little more heart-healthy exercise as well. So, snack smart and watch both your heart, and your overall health, greatly improve.
KEEP HEALTHY SNACKS ACCESSIBLE

According to Registered Dietitian Denise Graves, keep some lightly salted nuts handy in your car or at work for when snack time hits or you're feeling hungry and need for a little pick-me-up between meals. If you have more of a sweet tooth, choose low-fat yogurt or some delicious seasonal fruit to help take the edge off of your appetite.
AVOID TEMPTATION WITH MINDFUL EATING

How do you keep from eating those not-so-great snack choices? Denise recommends putting higher calorie, lower-nutritional value snacks in the back of the pantry or in cold storage, while moving smarter choices to the front. This little step makes the smart choices more accessible and it's easier to make a healthier snack selection.
For a satisfying snack, try Denise's granola bar recipe:
2 c Old fashioned Oats (quick oats are smaller and make a denser bar)
1 c chopped walnuts (high in Omega 3 fatty acid)
1 c sliced almonds
1 Tbsp Butter
¼ c Brown Sugar
½ c Honey (local honey if available)
Dash of Salt
1 tsp Vanilla
1 c dried fruit – blueberries, cranberries, cherries
½ c ground flaxseed (good source of Omega 3 fatty acid) 
Place nuts and oats on sheet pan and place in 325-degree oven and roast until browned to your liking.
Place butter, brown sugar, honey, salt and vanilla in a saucepan on the lowest heat possible. Heat until brown sugar is melted, and ingredients are mixed well.
Place everything but honey mixture in an 8-inch square plan and mix well. Drizzle the honey mixture on top and mix again. Smash down the mixture with wax paper and let sit until cool.  Cut into 16 squares and place in sandwich bags.  Now you have nutritious snack to enjoy all week!
MORE HEART-HEALTHY OPTIONS YOU MIGHT LOVE
For snacks that crunch while you munch, try these favorites:
Apples and pears
Jicama sticks (delicious alone or with low-cal dips)
Carrot and celery sticks
Bell pepper slices
Zucchini or cucumber circles
Roasted lightly salted chickpeas
Broccoli and cauliflower florets
Popcorn (easy on the salt)
Rice cakes and whole-grain crackers
Nuts and seeds (loaded with good fats)
There are so many delicious and nutritious snacks that, with a little creativity, you may find that the foods you first tried because you wanted something healthier, may turn into the snacks you actually prefer because they are both delicious AND make you feel better. Keep an open mind and don't be afraid to research for heart-healthy snack options. With so many wonderful variations and options more accessible than ever, even the pickiest of eaters can find a healthy favorite. This month think with your heart and you can improve your overall health. What's not to love about that?
Posted in:
Health
,
Recipes