Come together as a community to help end hunger
May 2, 2022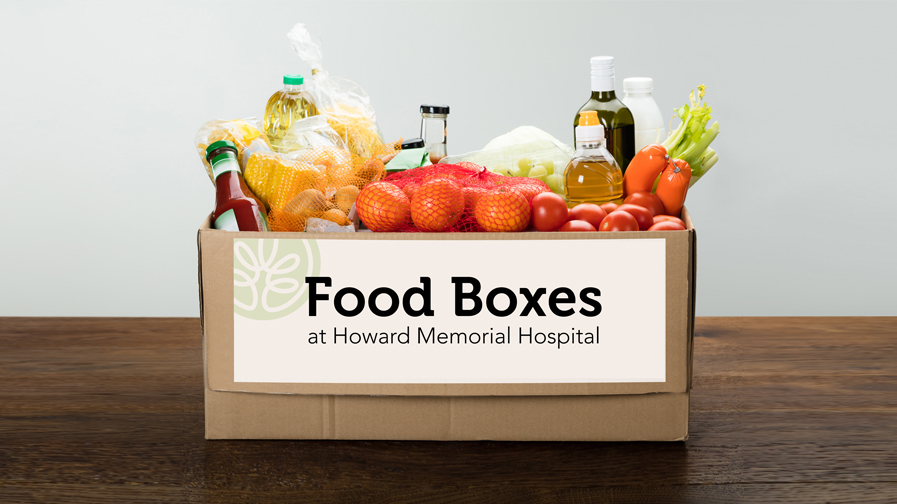 Food boxes at Howard Memorial Hospital: here if you need help—here if you're able to help
In 2021, one in four Americans didn't have enough to eat. Food insecurity, the lack of consistent access to nutritious food, usually occurs because people don't have the financial means to feed themselves or their families.
Food insecurity isn't always visible, but it can have dramatic results for the those experiencing it. It leads to health problems—physical, mental and emotional—and can have a broader impact that ranges from academic problems to increased crime rates in communities where it is more prevalent. Hunger and food insecurity exists nearly everywhere in the world—including here in the Nashville area.
Who is impacted by hunger?
As a community we should all feel impacted if our neighbors cannot meet this basic need. According to a recent community needs assessment, food insecurity is particularly relevant for vulnerable populations—children and the elderly. "It gets worse during the holidays but for school children, it's bad during breaks and over the summer," shared Kim Turbeville, Howard Memorial Hospital administrative director. "A lot of the kids only get good, nutritious meals while they are at school. Two of our local schools now have food pantries where children and their parents can pick up items to take home." 
Neighbors helping neighbors
A community garden and farmers market initiative, soup kitchen and food pantries through area churches and schools have been established to provide food but needs continue to grow. The team at Howard Memorial Hospital also wanted to help. "Employees have always been supportive of programs for those in need," Turbeville shared. The healthcare system started a competition among staff to kick off an initiative to help fight food insecurity. They decided to place food donation boxes—referred to by some as Blessing Boxes—at locations around their facilities so staff could donate essential food items.
Blessing Boxes   
Two food boxes were installed on the HMH campus; one is in the front parking lot and the other is located at the back of the hospital. The boxes are stocked by HMH staff and contain essential food items that people can take at any time. People can also find information about additional resources to receive help if they are experiencing food insecurity by speaking to your healthcare provider or calling Howard Memorial at 870-845-4400.
Blessing boxes are also located at the HMH emergency department, patient care unit and wound care. The HMH behavioral health clinic, medical clinic and surgery clinic have smaller donation boxes—also stocked by employees—to help patients in need.
Help fight food insecurity
There are a variety of ways to help fight food insecurity. Donate essential food items at area food pantries or drop off donations right here at Howard Memorial Hospital. Financial contributions are also welcome at charitable organizations that serve our neighbors in Nashville and the surrounding areas. Volunteer your time; food pantries, soup kitchens and other organizations are grateful for friendly, helpful people—it's a great act of service for individuals and entire families.
Simply being mindful of this very real need—right here in our community—is a great place to start. Every act of generosity and compassion, and every affirmation of a person's dignity can help the fight against food insecurity and the damage it creates. 
Turbeville and the Howard Memorial Hospital team knows the importance of coming together as a community to address this issue. "Food insecurity is something that we should all take seriously. As our mission states, we are committed to 'Improving the Health of the Communities We Serve'—and that includes ensuring that everyone can get the vitamins and nutrients their bodies need to thrive."  
Together, we can make sure that everyone has the basics they need for daily life. 
Food box locations at a glance
Whether you need help—or want to donate essential food items—
Contact us at 870-845-6935 or 870-845-8006.
Everyone needs help sometimes—additional resources
If you—or someone you know—needs help, know that you are not alone. There are people and organizations here for you; get the help you need to keep yourself and your family healthy. And to those able to share, thank you in advance for your kindness and generosity. The following links are just a few resources for helpers and those who need help.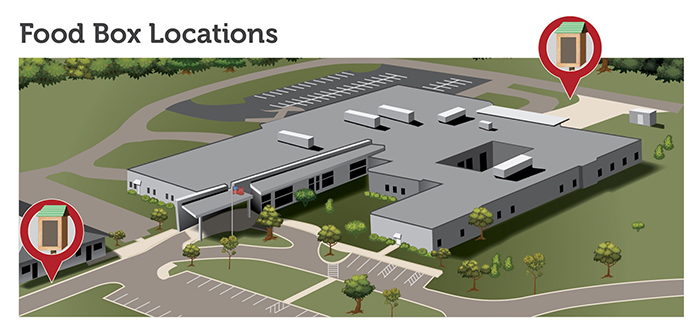 Posted in:
Health