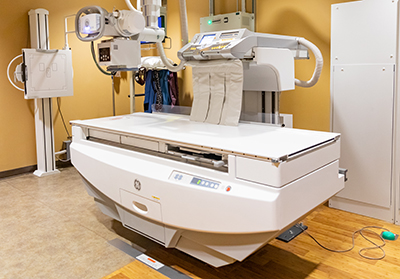 Howard Memorial Hospital is one of the few hospitals in Arkansas that offers digital imaging for a wide variety of diagnostic procedures. This gives HMH the advantage of providing physicians with clean, clear images to aid in determining the extent of an injury or medical condition. Our digital imaging technology includes:
• X-rays
• CT scans
• Mammography
• Bone density
• Ultrasound
• Nuclear medicine
If you have any questions, comments or concerns regarding our diagnostic imaging department, please contact our radiology director: Stacy Harberson at 870-845-8070.
Important Message Regarding Global Shortage of Contrast Media
As you may already know, healthcare systems worldwide are experiencing supply chain disruptions and product shortages due to the ongoing influence of COVID-19; one of these crucial shortages is contrast media for CT exams.
Unfortunately, this shortage impacts HMH's ability to perform CT exams; we are expecting this shortage to last until at least the end of June 2022. At this time, we are limiting CT scans to critical cases only.
While we are exploring various strategies to limit the impact of this situation, please note that you may notice delays in your testing. We apologize for the inconvenience, but please know that we continue to offer you the best care during these unprecedented times.